BNH CardControl
Debit card management at your fingertips. The best way to monitor and manage your Bank of New Hampshire debit card is with BNH CardControl. Save time and gain peace of mind knowing that you can control the cards in your wallet with the phone in your pocket.
With BNH CardControl you can:
Get real-time notifications when your BNH debit card is used

Restrict transactions to certain areas using your phone's GPS

Restrict transactions to a defined geographic location

Example: Authorize transactions only in New Hampshire, New England or within the United States

Set security preferences to match your spending habits

Set spending limits for every transaction

Enable or disable your card(s) to be used within certain merchant categories

Example: Gas, groceries, hotel or travel

Turn your card(s) on and off

Manage your card(s) from your mobile device
To use BNH CardControl:
Visit your Apple or Android app store and download the BNH CardControl app
Log in to your BeMobile Banking app
Select CardControl from the navigation menu
Frequently Asked Questions
Q. What types of cards can I add to the BNH CardControl app?
A. BNH CardControl supports all BNH debit cards. BNH credit cards are not supported.
Q. What are the requirements to utilize BNH CardControl?
A. To use our BNH CardControl app, you must:
1.Be a current BNH customer with a BNH debit card and enrolled in Online Banking
2. Have a supported mobile device such as a smartphone or tablet
3. Downloading the BNH CardControl app is required. Installation of the app will be prompted during enrollment.
Q. Can multiple cards be added to one BNH CardControl account?
A. Yes, you can add multiple BNH debit cards to BNH CardControl. Additional cards may be added by clicking the Edit Cards link, by sliding your primary card image to the left, or by clicking Menu and then Edit Cards.
Q. Do I have to update my card within the app after receiving a replacement card?
A. If the card number is new, then you must add the new card number to their profile. In addition, you may remove the old card by clicking Edit Cards, uncheck the checkmark for the card and click Save. Edit Cards can also be accessed by clicking Menu and then selecting Manage Portfolio.
Q. How long does it take for a debit card to be turned off or on?
A. When you disable or enable your debit card using BNH CardControl, your card will turn off or on in a matter of seconds.
Q. Are the alerts sent via email or push notifications to my mobile device?
A. BNH CardControl alerts are sent as push notifications. The alerts also display under Activity in the app.
Start using CardControl with your BeMobile Banking!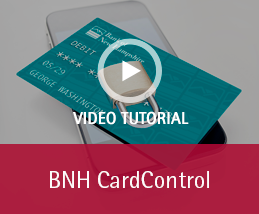 In some instances third-party data and messaging rates may apply. Check with your mobile phone carrier for details.